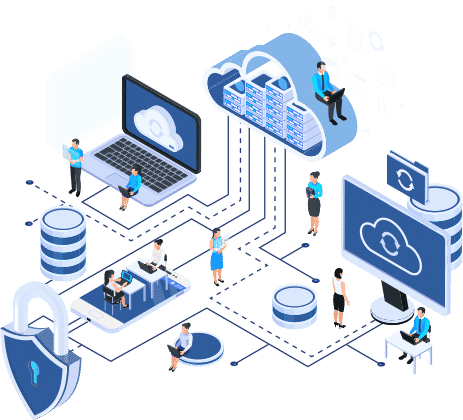 We understand that a well-structured network forms the backbone of any successful enterprise. Our team of skilled professionals specializes in creating customized network architectures tailored to your specific requirements. From designing and implementing secure and high-performance networks to ensuring seamless connectivity across various devices and locations, we take pride in our ability to optimize your network for maximum efficiency.
In addition to creating cutting-edge networks, our services extend to comprehensive network management. We offer proactive monitoring, regular maintenance, and swift issue resolution to guarantee uninterrupted connectivity.

Our proactive approach ensures that potential problems are identified and resolved before they impact your operations. By entrusting us with your network services, you can focus on your core business activities while we handle the complexities of network design, implementation, and management. 
Who We Are
Our Experts are Ready to Help
Robust Network Infrastructure
Having a robust and efficient network is crucial for the smooth functioning and success of any business in Dubai. At our company, we offer network servicing solutions that are specifically designed to ensure your organization operates seamlessly, with minimal downtime and optimal performance. We provide a range of services including troubleshooting and proactive maintenance, to keep your network up and running smoothly.
At 5FMIT – FZCO Solutions, we acknowledge that network issues can arise unexpectedly. That's why our devoted support team is accessible round the clock to promptly address all your concerns. We are committed to providing exceptional service beyond business hours, ensuring that your network is always in capable hands. Additionally, we ensure to maintain high standards of spelling, grammar, and punctuation to guarantee that our communication is clear and easy to understand.
Elevate your business with 5FMIT – FZCO Solutions – where innovation meets reliability. Contact us today to explore how our IT consulting and network servicing can propel your business into the future.
In today's age of rising cyber threats, securing your network has become more crucial than ever. Our network services provide a comprehensive security system to protect your sensitive data and keep your business safe from potential breaches. You can relax knowing that your network is fortified against ever-evolving cyber threats.
As your business evolves, so should your network infrastructure. Our network servicing solutions are scalable, allowing your IT infrastructure to grow in tandem with your business. Whether you're expanding your team or entering new markets, we ensure that your network can effortlessly adapt to changing demands.


Thanks to 5FMIT – FZCO top-notch customer service, the client has seen an increase in their customer retention rate, as well as impressive time and cost savings overall. Their team is very responsive, communicative, and adaptive, as well as transparent and trustworthy.
Who We Are
We Provide Best Digital Services